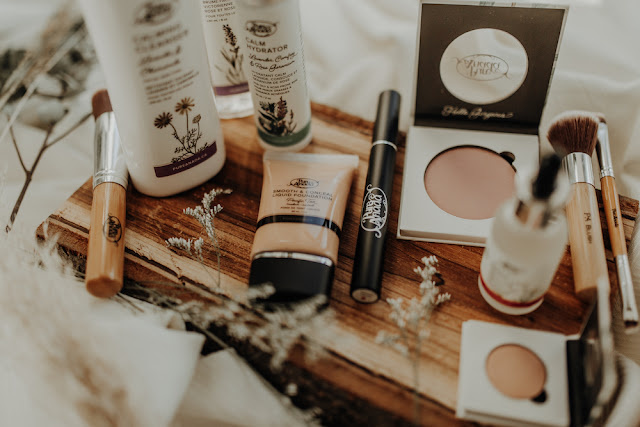 NATURAL & ORGANIC: WHAT IT MEANS TO US
At Pure Anada, we formulate and produce our own products. We appreciate the first-hand experience of knowing how our products are manufactured and the sources of our raw materials.
In an industry where "natural" has many different meanings, and lists of ingredients aren't always legitimate, it's hard to know what an authentically clean beauty product actually is. Consumers are demanding a natural product but want it to function exactly as their favourite synthetic version. This makes it challenging, if not impossible to please everyone.
In an effort to set Pure Anada above the rest and validate our truly natural formulas, we sought to have our facility certified by Ecocert to produce COSMOS certified organic beauty products. We succeeded and learned to respect the high standard of this prestigious organization.
However, in the end, the high fees and limitations required made it difficult for our small company to maintain this status. We just weren't ready for it yet, nor were our retailers and customers prepared to pay an inflated price for their favourite products, as this is what would have to happen in order to accommodate for the costs involved in certification.
We learned that our Pure Anada tribe valued who we were, just as we were. They didn't need a certification to verify our formulas. Being a small, Canadian manufacturer, they trusted that we were doing our best to offer them a healthy formula. We are humbled and thankful.
So, with an end-goal to continue producing beautiful, affordable, Canadian-made beauty, we will continue on as we always have!
ORGANIC INGREDIENTS – Since we value organic certification and sustainable agriculture, whenever possible, we will choose to select the certified organic version of a raw material over the non-certified. However, if the organic raw material is seasonally unavailable, or significantly higher in price, we will take the liberty to use a non-organic or wild-crafted version of the same ingredient. This ensures product availability and a consistent price-point. With this in mind, as we begin to print new packaging you will notice we will no longer indicate which ingredients are certified organic with an (*) – because it is apt to change from batch to batch.
OTHER INGREDIENTS – Everyone has their own definition of "natural" as it pertains to beauty products. At Pure Anada, natural is defined as: Ingredients derived from the earth, even if they are processed for use in cosmetic products, aren't synthetically manufactured. We only use ingredients that are harvested or produced in an environmentally sustainable way. Our suppliers treat their employees ethically, paying them fairly. If we are made aware of any contrary practices, we will source a new supplier or eliminate the ingredient. Since we do value the high standard of the Ecocert organization, we look for ingredients which are "approved for use in COSMOS certified organic products".